Load Powerfully and Athletically Behind the Golf Ball So You Can Launch It…
So many amateurs are all over the place in their backswing as they load.
If your fundamentals aren't right… you don't know how to load into your trail side to get into your lead side powerfully… you dramatically reduce the chance of hitting the ball long and straight.
Everyone can get better.
Everyone can have a more powerful and loaded backswing.
Load to Launch is a digital video program by World Long Drive Champion Justin James with Justin's favorite drills to have you hitting drives longer and straighter down the fairway.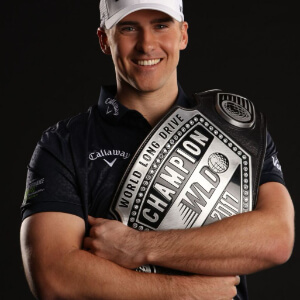 Instructor – Justin James
World Long Drive Champion
After winning the World Long Drive Championship in 2017, I began to teach professional and amateur golfers how to leverage the driver to lower their scores. I'm more convinced than ever that people of any age or ability can hit the driver longer and straighter, and enjoy the game more. I believe instruction has become too complicated and over analytical, pushing golfers away from athleticism and into "swing prison." I've been there, and it's no fun. I want to help you break free, bomb the driver, and play the most fun, care free golf of your life.
Get a FREE Copy of Justin James' Load to Launch – Digital Program with Your Purchase
Get a free copy of Justin James' Load to Launch – Digital Program when you purchase a set of Tornado Tees.
This is a limited time offer. Click the button below to order your Tornado Tees.
Order Now

Click Here to Order Tornado Tees and Get Justin James'
Load to Launch Digital Program FREE »
Free course will be shown in the cart during checkout. Instructions to Access Justin James' Load to Launch – Digital Program will be delivered to your email with your order confirmation. If you have any questions or issues, please email support@tornadotee.com.